St Patrick's Day: Know Your Beers
0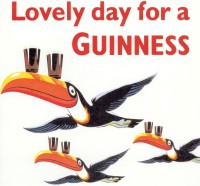 If you're looking for more authentic ways to celebrate St Patrick's Day this March 17th than shamrock hats and green food dye in your beer, seek out these classic Irish beers to please every palate.
Stouts
Dry, heavy and comparatively low in alcohol volume, stout is the quintessential Irish drink.
Guinness – Brewed since 1759, Guinness is without doubt Ireland's most famous beverage as well as being one of the most successful beer brands in the world. A pint is virtually mandatory on St Paddy's Day, and there's truth in the old slogan that Guinness is good for you – not only is it low in calories, it's also rich in minerals and nutrients that most others beers lack.
Murphy's Irish Stout – The chief competitor to Guinness, Murphy's is a worthy alternative with its distinctive caramel and malt tones and smooth texture.
Beamish – Harder to find overseas since the closure of the Beamish and Crawford brewery, Beamish is today brewed by Heineken and another viable Guinness substitute.
Cream ales
These ales offer the smooth finish, creamy head and low ABV of stouts, if you're looking for something more similar to regular beer.
Caffrey's Irish Ale – As cold as lager and as smooth as stout, Caffrey's is truly the best of both worlds.
Kilkenny – Smooth and malty, Kilkenny's nitrogenated cream ale traces its history back to the 14th century and is widely available on tap and in tin.
Red ales
Ranging from ruby to brown in hue, and with a distinctive malt taste, Irish red ales are the ideal option for those who prefer their beers less creamy.
Smithwick's – Combining hops, malt, water and yeast, Smithwick's can be instantly identified by its rich red colour and creamy head. Just make sure you know how to pronounce it ("Smiddick's") to avoid disparaging glances at the bar.
Murphy's Irish Red – Proving it has more strings to its bow than just stout, Murphy's launched this successful red ale in 1983, primarily aimed at the international market.
Lager & cider
If the above brews are a little exotic for your tastes, try these more accessible alternatives that are still authentically Irish.
Harp Lager – Ireland's most successful lager slips down easily, whether you drink it solo or combine it with Guinness.
Magners Irish Cider – Refreshing and fruity, Magners (Bulmers in Ireland) is available in apple, pear and berry varieties.
Other Irish tipples
Even if you're not a big beer fan, Ireland's breweries still have you covered on St Patrick's Day. Enjoy these high-alcohol alternatives neat, on the rocks or with mixers.
Irish whiskey – Jameson is the most famous name, but other brands can be just as satisfying, including Bushmills, Red Breast and the pricier Clontarf.
Bailey's Irish Cream – Deliciously creamy, Bailey's is also the base for all manner of creative (and creatively named) mixers. Drop a shot of Bailey's topped with Jameson into a half-pint of Guinness and knock it back before it curdles to enjoy the distinctive experience of a "Car Bomb."
If you are heading out on the town you're bound to come across these classic Irish beers. Lookup your local brewery if you're feeling more adventurous, there are some great Australian red ales too!

If you're celebrating St Patrick's Day at home or at a barbeque, the essential Irish ales are available at your local Foodworks supermarket in time for March 17.

Mar 15, 2016 | Chris Finnegan